08 April 2021
Impacted Wisdom Tooth?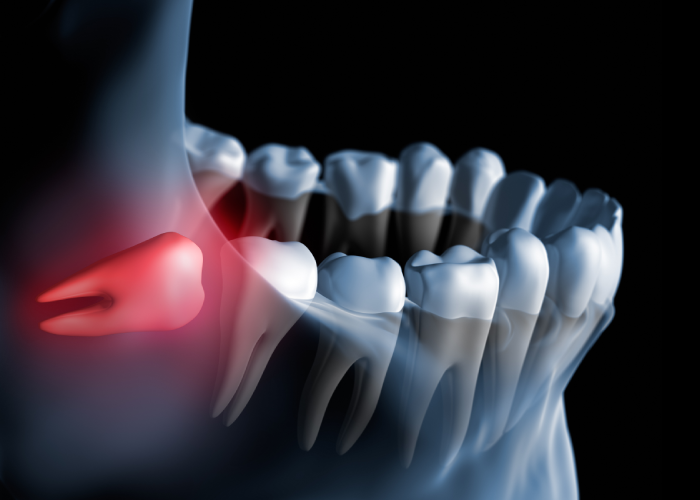 An impacted wisdom tooth can happen to anyone for a number of reasons and is a very common dental issue. The problem arises when emerging wisdom teeth have insufficient room to grow or are not strong enough to force their way through the gums.
Whatever the cause, an impacted wisdom tooth will not simply disappear and always requires the attention of a dentist. Whether the tooth is stuck under the gum or partially exposed the solution is usually an extraction.
Simply ignoring the problem can lead to other dental issues such as:
– Painful jaws or teeth
– Swelling of the jaw
– Gum inflammations and bleeding
Bad breath often accompanies an impacted wisdom tooth and this could mean you have an infection of the surrounding gum tissue. Any delay in consulting with the dentist will not only lead to unnecessary pain and discomfort but may make an extraction more difficult, more expensive and requiring a longer time to recuperate.
Wisdom tooth extraction can be carried out by your dentist, or occasionally by a dental surgeon, with the use of a mild sedative and the procedure is both quick and painless with a patient usually returning home the same day. Read more on this topic at https://yourdentalhealthresource.com/how-long-can-i-ignore-my-impacted-wisdom-tooth/.
Back to Blogs
Treatments
Taking your smile in a positive direction
When it comes to a friendly, caring, and professional dentist in Cheadle Hulme, you won't find better than Cheadle Hulme Dental and Cosmetics. Why not book an appointment by contacting us directly at 0161 486 0743? We look forward to welcoming you.
View our treatments