24 March 2017
Implant Problems – When You Need A Manchester Emergency Dentist
Despite the fact that one of the most advanced forms of missing teeth replacement is dental implants, Manchester patients should be aware of the fact that success can never be guaranteed. There are a variety of problems that can arise, sometimes years after the initial placement. In some cases patients might need to seek advice and/or help from a Manchester emergency dentist. Our emergency dentist Didsbury takes a closer look at the most common dental implant problems and what can be done.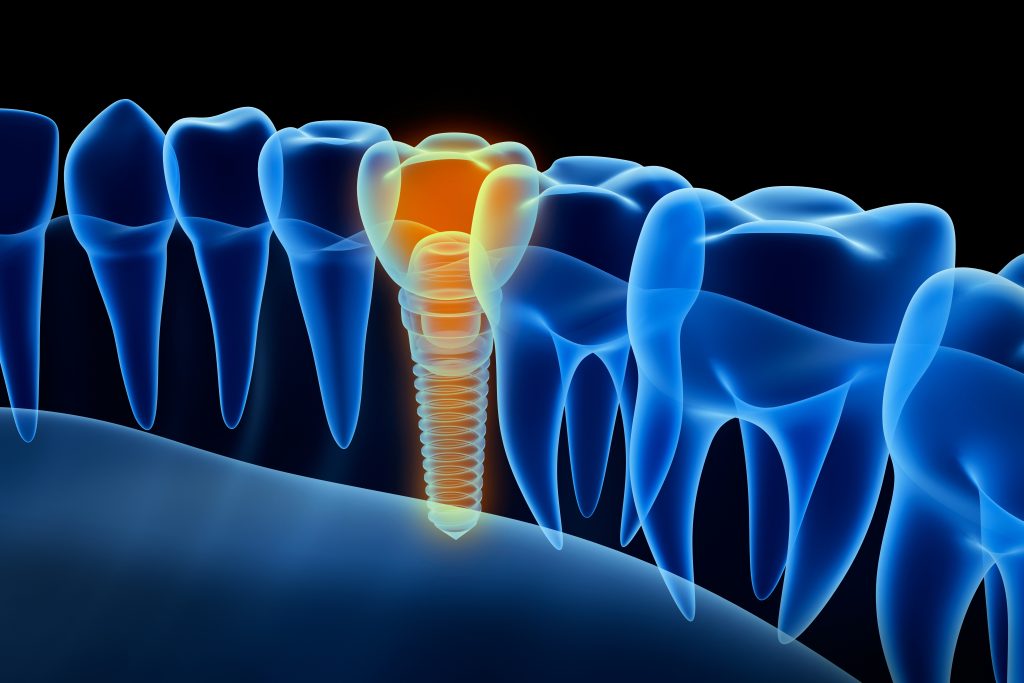 Osseointegration failure
The process of osseointegration is pivotal to initial implant success. In effect it's the connection of the bone tissue with the titanium screw as they fuse together as one. This is what creates the super-strong platform. In 95% of cases it occurs as a natural process with no problem, but in the remaining 5% there may be complications. Signs are a loose implant. Osseointegration failure could be down to poor lifestyle choices, health problems, or both. To avoid bone fusion issues dentists should be certain that the implant is being placed into a healthy body and more importantly a healthy mouth. If you experience loose dental implants, Manchester patients should contact a Manchester emergency dentist immediately.
Peri-implantitis
Despite the fact that dental implants are designed to be strong and long-lasting they have their own personal Achilles heel and that's bacteria. Bacteria is a real problem for dental implants and it can attack the bone surrounding the implant causing it to become loose. In most cases it occurs within the first few months after surgery, but there have been cases where peri-implantitis has taken hold a decade or so later. It's usually caused by improper dental hygiene (eg, failure to clean the teeth effectively) or through ongoing smoking. Generally peri-implantitis is painless and the first thing patients feel is a loosening of the implant or a slight bump around the implant base. Again patients should seek advice immediately. The dentist will have to remove the implant, clean out the area, and after a possible bone graft to build up the area, refit a new implant. All of this can take a great deal of time and expense. Because of this, our emergency dentist in Didsbury suggests that  initial prevention is far easier and better on the wallet than cure.
Tissue and nerve damage
With the advancements in available dental technology this problem is far less common. It occurs when the implant has been poorly placed too close to a nerve (usually by an inexperienced dentist). Symptoms can include facial pain, short or long-term facial numbness, or a tingling sensation in the cheeks, gums, lips, or chin. Seeking a Manchester emergency dentist can help; however as a form of prevention, patients requiring dental implants in Manchester need to make sure the dentist performing the procedure is highly-experienced.
Although it's important to understand what can go wrong, dental implant success remains very high (somewhere between 95 and 98% for most dentists). Provided patients carry out any necessary due diligence and follow after care instructions laid out by the dental team, they shouldn't be seeking an emergency dentist Didsbury, any time soon.  For further details on dental implants Manchester, contact Church Road dental on  0161 486 0743 and book a free, no obligation consultation.
Back to Blogs
Treatments
Taking your smile in a positive direction
When it comes to a friendly, caring, and professional dentist in Cheadle Hulme, you won't find better than Cheadle Hulme Dental and Cosmetics. Why not book an appointment by contacting us directly at 0161 486 0743? We look forward to welcoming you.
View our treatments