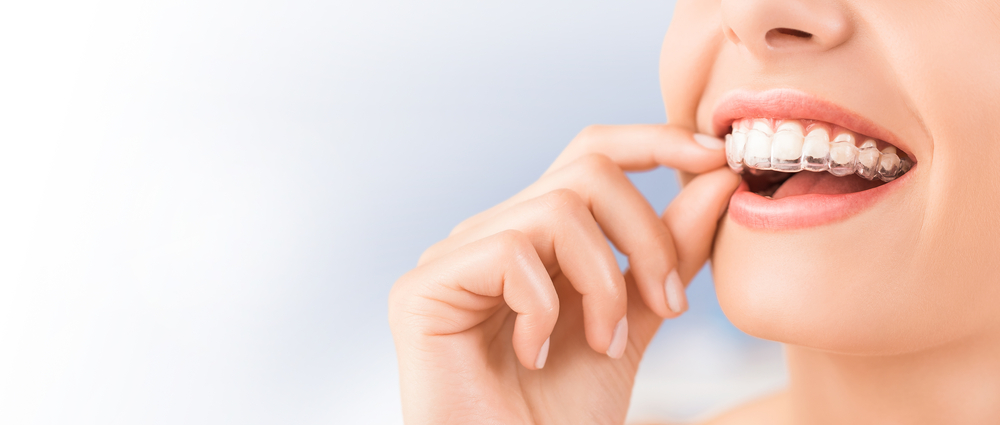 Although dental implants in Manchester are a great way of restoring a smile, they aren't going to stand out unless your teeth are perfectly aligned. Aside from being visually pleasing, there are a number of health benefits that come from straightening your teeth too. For example, did you know that because a straighter smile is much easier to keep clean, it can help reduce your risk of gum disease, decay and tooth loss?
There are many advantages of getting braces that run deeper than vanity and many people visit our Church Road dentist in search of a quick solution to straighten things out. But with many different brace options available today, which one is best suited to you? Let's start by taking a close look at everything you need to know about the Inman aligner, from cost to treatment length, through to how our crown clinic in Manchester can help you.
What's special about Inman Aligners?
These braces are a great, fast solution for patients who have crooked, crowded or protruding front teeth. We'd say that the most appealing aspect of these braces is the speed at which they work. The aligner is designed to gently but effectively move the teeth and create your dream smile in as little as 6 to 18 weeks. Most patients begin to see a difference after just a few weeks. What's more, it's very comfortable to wear and it's hassle-free – simply pop it out before eating or cleaning your teeth.
Who is the Inman Aligner designed for?
Inman Aligners are designed for those who have only minor issues to correct. They're ideal for patients with slightly crowded or crooked front teeth and those who've had brace treatment in the past that has relapsed. On the other hand, they're definitely not your best option if you have more complicated alignment issues. The best way to find out if they're the right fit for you is to book a free consultation with our Church Road dentist.
How will it look?
The Inman aligner brace system is a discreet orthodontic treatment. On the whole, it's an unobtrusive treatment with the added addition of a thin metal bar which runs across the front of the teeth. This may be visible to others if they look carefully. That said it's a very versatile brace solution that you can remove for job interviews or family photos. It's recommended that you still wear the aligner for 16-20 hours each day, only really removing it to eat and clean your teeth.
How much does the Inman Aligner cost?
As usual, when it comes to dental treatment, it's difficult to give anything more than a rough ballpark figure because everyone's situation is different. If you're serious about straightening your smile, you really need to be assessed individually so that your Church Road dentist can create the best strategy tailored to your personal smile goals.
When compared to other brace treatments it can cost less, so it really fills a gap in the dental market to help people with milder smile issues who don't fancy spending a fortune on lengthy straightening treatments. Now they've got the option to correct their smile quickly with the Inman Aligner. The cost will be determined at your consultation but it's usually somewhere around the £1000-£2000 mark.
How long will it take for me to get used to wearing it?
It generally takes most people around one week of wearing their brace to get used to it. Like anything new in your mouth, it might cause you to produce more saliva than usual for the first 24-48 hours and could possibly affect your speech for a few days too. But this is to be expected with any kind of brace treatment – whether you have Invisalign or fixed braces – and is only temporary while you get used it.
Can I wear Inman Aligner braces if I have dental crowns or bridges?
The simple answer is yes. In fact, Inman Aligners are one of the best brace systems to work around existing restorations such as dental implants in Manchester or bridges and crowns
Why?
Bonding fixed brackets to dental restorations can be quite tricky because they always attach better to natural tooth enamel. With the Inman Aligner, nothing has to bond to your restorations because they're a removable appliance that sits over the teeth instead. They're also custom made to your mouth, so it's easy to work on your restorations.
So even if you have dental implants, large fillings or bridges and crowns don't worry! While there are a few factors to consider, you can still get the straight smile you've always wanted.
But will I need to wear retainers after treatment?
Yes, you'll always need to wear a retainer after any type of brace treatment, as long as you want your teeth to stay in their new position! We offer either removable retainers or fixed retainers that are cemented to the back of your teeth.
Take steps toward your dream smile today!
If you're looking to straighten out a few issues, why not book a free no-obligation consultation with our Church Road dentist? We're a team of cosmetic dentists that know how to get the best from your smile. Whether you're looking to correct your smile with crowns and veneers or dental implants Manchester or would like to learn more about straightening your teeth and the Inman Aligner cost, find out more by calling our crown clinic Manchester on 0161 486 0743.