05 June 2011
Mercury Free Fillings Cheshire
Is this you when you laugh??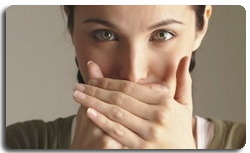 Is this Due to Visible "Silver" fillings??
Traditionally fillings were made of amalgam (silver fillings) containing Mercury. Nowadays there are more aesthetic alternatives such as porcelain inlays or Composite fillings.
Composite fillings are a type of "white" tooth coloured filling made from a specialsed resin which is highly durable and very visually pleasing. In most cases you can not even tell the tooth has a filling in it at all!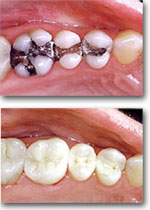 Apart from restoring the tooth to its natural appearance, there are also many other advantages to having white fillings.
Unlike Amalgam, composite resin does not contain Mercury so if you want a Mercury free mouth they are the filling type of choice.
Being a metal Amalgam can be more conductive with hot or cold foods and drinks, whereas composite resin fillings if the correct techniques are used should be less sensitive.
Less tooth removal is needed for composite filling so the cavity can be greatly reduced.
Composites are bonded to the tooth which can add strength.
At Church Road Dental and Cosmetic in Cheadle Hulme Cheshire we are dedicated to making you healthy and happy with your smile. We use the best Composite material available and pride ourselves on creating beautiful smile for you.
But don't take our word for it, Have a look for yourself!… CLICK HERE
So if you want to smile and laugh with confidence and live in the Bramhall, Wilmslow, Cheadle, Manchester area, call us anytime 24 hours a day for your appointment on 01614860743. Or email [email protected] and we will book you in for your assessment!
The Church Road Dental and Cosmetic team. x

Back to Blogs
Treatments
Taking your smile in a positive direction
When it comes to a friendly, caring, and professional dentist in Cheadle Hulme, you won't find better than Cheadle Hulme Dental and Cosmetics. Why not book an appointment by contacting us directly at 0161 486 0743? We look forward to welcoming you.
View our treatments