11 February 2011
Pain Free Dentistry
Introducing to Church Road Dental and Cosmetic….
The Wand!
A PAIN FREE injection system for nervous and phobic people!!

Our practice is committed to providing people in Cheadle, Stockport and Manchester with the latest and best advances in gentle dentistry.
If you scared and anxious about coming to the dentist, help is at hand. With our specialist equiptment and gentle and caring manner we take pride in helping needle phobics. That is why our dental surgery offers anaesthesia with our new gentle pain free injection system. This means that every time we numb you up, it will a pleasant experience at the dentist!
The Wand uses a small hand held piece of equiptment that looks just like a pen. This "pen" is held at the gum line between the gum and the tooth. It then slowly and comfortably administers the anaesthetic straight to the tooth, which means just that individual tooth and immediate surrounding gum is numbed without a numb face, lip or tongue! You can have a cup of tea and even eat afterwards!
pain free
computerised system
perfect for phobics
slow and comfortable
No numb lip or face for hours after
Patient Testimonials:
"I was not looking forward to my filling on a front tooth, but was delighted with the pain free numbing system. It takes a little longer than an injection but really 'does what it says on the tin'. Afterwards I could talk coherently! Best experience of a filling Ive had, even the drill seemed quiter!" Jane Marsden, Cheadle
"I am very nervous of injections but the anaesthetic wand was comfortable and much less intimidating" Michael Wise, Manchester
Why not try it out at your next appointment with us? Just call on 0161-486-0743 today for more information or to book an appointment to see our Gentle Dentist!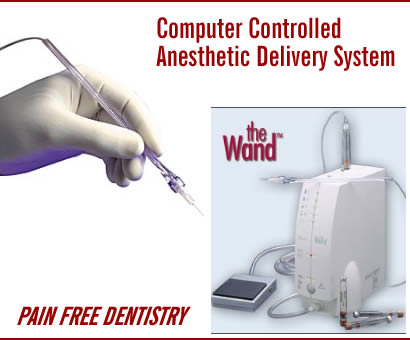 Back to Blogs
Treatments
Taking your smile in a positive direction
When it comes to a friendly, caring, and professional dentist in Cheadle Hulme, you won't find better than Cheadle Hulme Dental and Cosmetics. Why not book an appointment by contacting us directly at 0161 486 0743? We look forward to welcoming you.
View our treatments