31 August 2023
Smile Makeover Offer Extended!
Our hugely popular smile makeover offer has been extended until the end of September! As summer has been so shocking, we are hoping to bring some sunshine by extending our smile makeover offer in the hope that it will also extend summer. Our offer is for a smile makeover using composite veneers.
Composite veneers are a minimally-invasive type of tooth covering made using composite resin. The composite sits on top of your existing teeth, helping to shape the teeth into a more desirable appearance. They can be used to improve the appearance of natural teeth that have damage, discolouration, irregularly shaped, improperly aligned and can also fix minor chips or cracks in the teeth. It doesn't take very long for a dentist to prepare your teeth for application of the veneers, and the veneers are applied there and then, meaning you can get your dream smile in just one visit (following consultations). This makes it the perfect treatment for getting the most amazing smile makeover and, as long as you book in for the initial consultation before the end of September you will still get these incredible savings, even if you come back for the treatment at a later date.
OUR SMILE MAKEOVER OFFER
We have 4 packages in our smile makeover offer. The more veneers placed, the bigger the savings.
4 composite veneers for £1500 (saving £100)
6 composite veneers for £2100 (saving £300)
8 composite veneers for £2600 (saving £600) WITH FREE BOUTIQUE WHITENING
10composite veneers for £3000 (saving £1000) WITH FREE BOUTIQUE WHITENING
Composite veneers create the most amazing smile makeovers at a fraction of the cost of porcelain ones, with NO damage to the natural teeth. And, as they can be done in one visit you can walk away the same day with a brand new, beautiful smile.
Here is an example of a composite veneer makeover we have completed recently, where the patient was been unhappy with his chipped, worn, uneven teeth, and the gaps between them. Here, we placed six composite veneers to get rid of those imperfections and give this patient a beautifully straight and even smile with no gaps.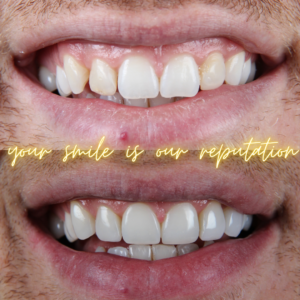 If you are interested in this offer please get in touch today on 0161 413 2649. To find out more about this treatment see this page of our website: https://www.cheadlehulmedental.com/treatment/composite-veneers/
To watch a video about composite veneers follow this link: https://www.youtube.com/watch?v=iGTIWPimAF0&t=13s
To watch a video about our composite veneers offer follow this link: https://www.youtube.com/watch?v=5cSJJuKYaWw&t=17s
Back to Blogs
Treatments
Taking your smile in a positive direction
When it comes to a friendly, caring, and professional dentist in Cheadle Hulme, you won't find better than Cheadle Hulme Dental and Cosmetics. Why not book an appointment by contacting us directly at 0161 486 0743? We look forward to welcoming you.
View our treatments