09 July 2018
Teeth Whitening Poynton – Before or After Implants?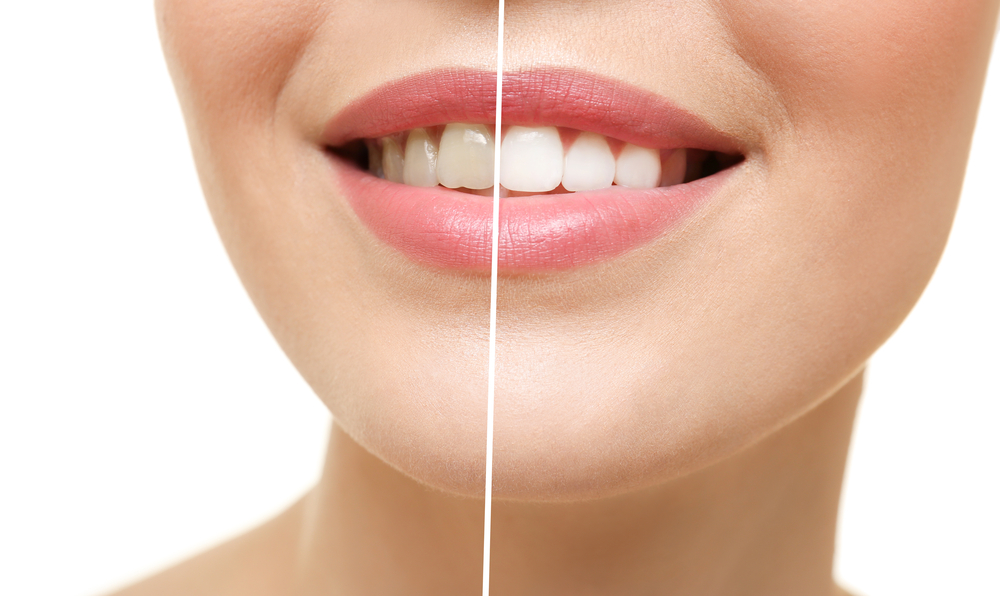 There's no doubt that both teeth whitening in Poynton and dental implants in Manchester are some of the best ways to improve your smile. They both have the ability to make a massive difference to the aesthetic look of your teeth which in turn can be a huge confidence boost. Thankfully, you don't have to stray far from our dentist in Poynton/Cheadle Hulme to have either/or treatments done because as a multi-disciplinary dental practice, we have the team to carry out multiple procedures under one roof.
As a result, people come to our Church Road dental practice for both teeth whitening and implant-based restorations. However, the question and dilemma that many patients have are which treatment do I have first? Our Cheadle Hulme/Poynton dentist explains…
While a lot can be achieved with cosmetic dentistry, what it does need is both careful planning and patience. So if you're intending to have a lot of dental work, then it's important that procedures are carried out in the correct order.
In 99 cases out of a 100, teeth should always be whitened first before anyone has their permanent crowns for their dental implants. Manchester patients should look at it this way…. you probably wouldn't want an implant crown to be placed into a dull smile right? In that case, it's better to get your teeth whitening in Poynton finished in order to get your smile up to scratch before any crowns are placed. But how long before undergoing implant-based restorations should you have the teeth whitening procedure done?
The best case scenario is that any teeth whitening is carried out at least several weeks before your dentist in Poynton makes your final restorations.
So why is this?
Quite simply because when you opt for professional teeth whitenings, such as chairside treatments or teeth whitening take home kits, teeth will continue to lighten for several days/weeks after treatment in most cases. The problem is that if our team matches the shade of your crown to your smile as it was at that time and your teeth continue to lighten, then the implant is going to stand out.
From an aesthetic viewpoint, that's clearly not what we're aiming for.   So for this reason, it's highly important to discuss the longevity and results of your teeth whitening treatment with your implant surgeon who is then able to make the necessary provisions.
So what about during the bone fusion process – Is this the perfect time to get teeth whitening in Poynton?
If you know anything about dental implants in Manchester, you'll know that when they're placed into the jawbone they need time for any remaining bone tissue to fuse with the titanium implant. It's this process (known as osseointegration) which helps the implant itself to maintain a strong platform upon which the prosthetic crown will sit.  As full bone osseointegration takes anywhere between 2-6 months, it may be the ideal time to get any remaining teeth whitened before you receive your permanent dental crown/s.
So does teeth whitening Poynton affect dental implants?
In a word no! Provided it's carried out using a reputable manufacturer, or chairside by our dentist in Poynton, then whitening gels are perfectly safe on implant-based restorations. That said, patients should ensure that the implant site has healed first to avoid any problems.
So what about the long-term – Can I opt for teeth whitening in the future?
Absolutely! However, one thing to bear in mind is that the vast majority of dental implants in Manchester and indeed the rest of the UK are made from dental porcelain. While this super-strong material is stain resistant to a certain extent, just like your natural teeth they can pick up staining, particularly from habits like heavy smoking of coffee drinking. However, unlike your natural teeth, they won't bleach up when you opt for teeth whitening. As a result, patients should try to limit their intake of teeth staining foods, drinks or habits, and/or pay regular visits to the hygienist. They will use professional stain removal techniques to ensure your implants stay as white as they can be.
So to recap…
• If you're considering teeth whitening, Poynton and Cheadle Hulme residents are urged to go ahead, even if you're contemplating undergoing implant-based restorations.
• Just be sure to carry out any teeth whitening FIRST, before any permanent crowns are attached
• Make sure your dentist in Poynton and your implant surgeon know what's going on.
• Finally, remember that implant crowns are usually made from dental porcelain and like natural teeth are prone to some staining.
• However, unlike natural teeth, they can't be whitened.
So there you have it! Everything you need to know about dental implants in Manchester and when you should or shouldn't opt for teeth whitening!
To find out more about any of the procedures listed here, or if you have any questions or concerns about a particular dental procedure, contact our Church Road dental practice on 0161 486 0743 and we'll be glad to assist.
Back to Blogs
Treatments
Taking your smile in a positive direction
When it comes to a friendly, caring, and professional dentist in Cheadle Hulme, you won't find better than Cheadle Hulme Dental and Cosmetics. Why not book an appointment by contacting us directly at 0161 486 0743? We look forward to welcoming you.
View our treatments