06 May 2021
The Risks of Impacted Teeth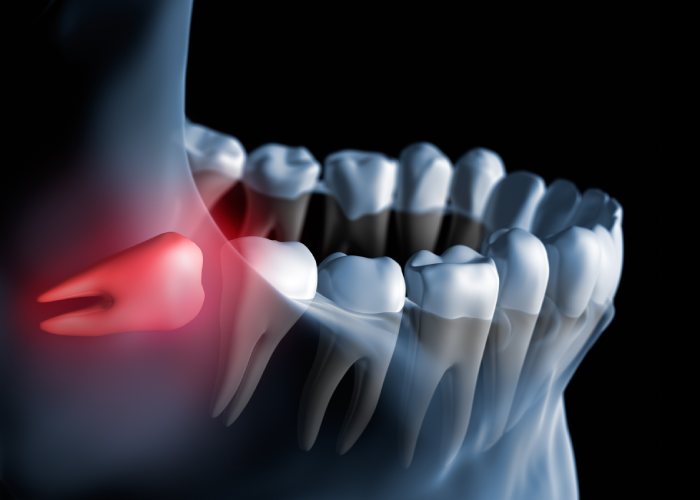 We usually think of impacted wisdom teeth, but any tooth can become impacted and require the attention of a dentist. Impacted means that a tooth has not emerged fully and may not even be visible above the gumline.
Some indicators of a possible impacted tooth are swollen or reddened gums, a persistent bad taste or painful or swollen jaws.
An impacted tooth may be almost impossible to spot and usually requires a dental x-ray to verify the condition. This is why regular check-ups at the dentist are so important.
Left untreated, an impacted tooth can lead to serious dental issues such as:
– Infections. An impacted tooth is almost impossible to brush or floss correctly. The resultant build-up of food particles is a breeding ground for bacteria which cause gum and tooth infections.
– Crooked or Crowded Teeth. As the impacted tooth tries to push its way through the gum it can force the surrounding teeth out of position — leading to crooked, crowded or misaligned teeth.
– Damaged Tooth Roots. A cyst may form near the impacted tooth. The cyst can damage the roots of the impacted tooth or those nearby.
In some circumstances the cyst could also harm the bone that helps anchor your teeth and result in serious jaw problems.
Read more at https://yourdentalhealthresource.com/what-are-the-health-risks-of-an-impacted-tooth/.
Back to Blogs
Treatments
Taking your smile in a positive direction
When it comes to a friendly, caring, and professional dentist in Cheadle Hulme, you won't find better than Cheadle Hulme Dental and Cosmetics. Why not book an appointment by contacting us directly at 0161 486 0743? We look forward to welcoming you.
View our treatments