05 June 2017
Tooth Decay Treatment – Getting Back To Basics
Because there is so much written about dentists treating patients with dental implants in Manchester or of people being attracted by the latest rejuvenating botox offers, Manchester residents can easily forget that the main aim of a dentist is to promote oral health and prevent disease. This view is compounded by the recent news that teeth extractions in UK children under the age of 4 have increased by 24% over the last decade. With this in mind, it's worth going back to basics and taking a closer look at how we can prevent the need for tooth decay treatment in the first place.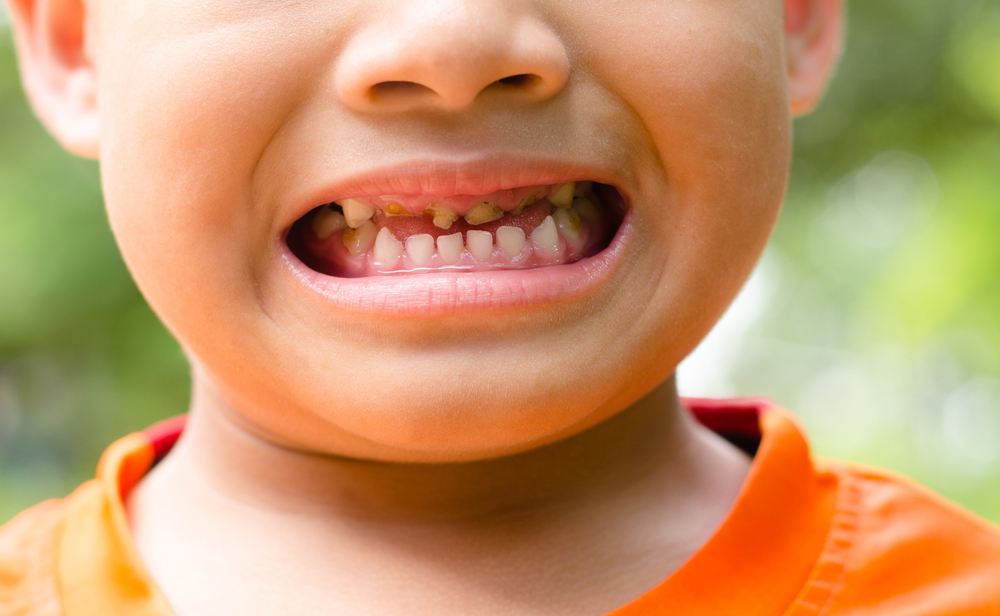 Let's face it, our westernised sweeter diet means that our teeth are more prone to tooth decay; yet according to NHS figures, as many as 4 in 10 children under the age of ten did not pay a visit to a dentist last year. This is despite the fact that dental treatment is free for those under the age of 16.
So what causes tooth decay?
In essence, the answer is sugary drinks and foods high in carbohydrates. When we consume certain foods and drinks, the bacteria contained in plaque (a mixture of food debris and bacteria normally found in the mouth) turns any carbohydrates/sugars into energy. This, in turn, produces acid. If plaque is allowed to build up, the acid contained within can start to attack the surface of the tooth causing damage. In fact, in some cases, the acids can start to break down the enamel of the tooth within 20 minutes of eating a meal or having a sugary drink.
Under normal circumstances brushing the teeth after a meal will remove the majority of plaque that may otherwise cause harm. However, if it isn't removed, it can harden and turn into tartar. Once tartar takes hold, it can no longer be removed through normal brushing and continues to damage the teeth.
As it attacks the teeth it slowly dissolves the enamel tooth coating causing tiny holes or cavities.
The main issue is that the early stages of tooth decay aren't normally visible and there is usually no pain either. Consequently, without regular dental check-ups, it's easy to ignore or not be aware that any cavities exist. The other issue is that cavities don't usually repair themselves and if tooth decay treatment isn't undertaken, it can lead to more serious problems or issues. In many cases, it can result in missing teeth and the need for costly teeth replacement treatment such as dental implants Manchester when your child is older.
How does severe tooth decay occur?
Once the decay gets through the outer enamel, it starts to attack the inner dentin. Those with tooth decay will notice that the affected tooth or teeth become irritated and painful, particularly when exposed to extremes of temperature such as when drinking hot drinks or eating ice cream. Because the dentin layer is much softer, decay tends to spread more rapidly. However, the point where tooth decay is most noticeable is when it reaches the inner pulp portion of the tooth containing the nerves and blood vessels. This can be very painful and is likely to keep your child (and you) awake at night. It can also bring about facial swelling and a nasty taste in the mouth. In addition, consequences can become far more serious if the infection spreads through the jawbone and into the body.
So what can you do?

Ideally, you don't want the problem to escalate to this stage and this is where regular dental check-ups are key.
If for instance during a checkup your dentist detects small areas of erosion on the tooth enamel they may suggest a small tooth coloured filling to plug any holes and prevent further bacteria from entering.
Conversely, if the main teeth have already developed and tooth decay has caused the tooth to lose its structure, your dentist may suggest a dental crown. A dental crown restores tooth structure to improve bite and add strength. However, in terms of cost, it's going to be more expensive than a filling.
The worst case scenario is where the disease has entered the tooth root via the inner pulp and an abscess has formed. In this case, the dentist will decide the best form of tooth decay treatment and at this stage, that's either a root canal or a tooth extraction. After performing a root canal the tooth that's left is usually a hollow shell. In most cases, the dentist will recommend that a crown is placed on top to protect the remaining tooth. In the case of a tooth extraction, the dentist will recommend some form of missing tooth replacement. Either way, there is a pattern emerging in that the longer a visit to the dentist is resisted, the more complex, and therefore costly, treatment becomes when it's absolutely necessary.
The moral of the story
Problems caused by tooth decay are easily preventable if you teach your child to practice good standards of oral care. This coupled with regular dental visits should ensure that your child's teeth remain healthy for many years to come. So while you might be thinking of visiting your dentist because they have the latest botox offers, Manchester dentists would advise patients to get back to basics and remember to book themselves and their children in for regular check-ups.
At Church Road Dental, as well as providing cosmetic and restorative dental treatment such as dental implants Manchester, we prefer to tackle any dental problems early on before they have time to escalate. To book your dental check-up and negate the need for complex tooth decay treatment simply give us a call on 0161 486 0743 or contact us via the contact form on the website. On behalf of Dr. Shi Karim, we look forward to welcoming you.
Back to Blogs
Treatments
Taking your smile in a positive direction
When it comes to a friendly, caring, and professional dentist in Cheadle Hulme, you won't find better than Cheadle Hulme Dental and Cosmetics. Why not book an appointment by contacting us directly at 0161 486 0743? We look forward to welcoming you.
View our treatments