13 November 2019
Tooth Sensitivity or Sensitive Gums?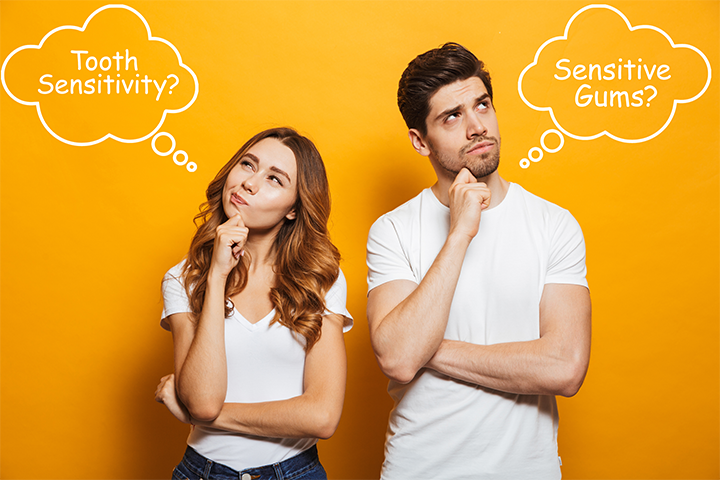 Sensitive gums may often result from sensitive teeth and the reverse is also true but there is a distinction to be made between the two conditions.
Tooth sensitivity can often be traced back to a damaged or chipped tooth or a loss of tooth enamel while sensitive gums are usually an indication of an inflammation caused by a build-up of plaque and bacteria.
Either dental issue is annoying, sometimes painful and it is always advisable to have the problem looked at by a dentist to determine if there is an underlying medical cause.
When caught early, both sensitive gums and teeth generally respond well to simple remedies without the need for any dental procedures.
Good dental care can often prevent sensitivity occurring in the first place and this includes:
–   Brushing and flossing regularly and correctly
–   Regular check-ups at the dentist
–   Following a balanced nutritious diet and avoiding sugary, sweet or acidic foods and drinks
Sometimes, however, tooth or gum sensitivity can occur despite our best efforts to prevent it or for reasons beyond our control. These include a fractured or chipped tooth, worn or damaged fillings, exposed tooth roots and grinding your teeth, or brushing (them) with too much force and these will probably require some corrective dental procedure to remedy.
Find out more at https://www.colgate.com/en-us/oral-health/conditions/tooth-sensitivity/sensitive-gums-vs-sensitive-teeth-0415
Back to Blogs
Treatments
Taking your smile in a positive direction
When it comes to a friendly, caring, and professional dentist in Cheadle Hulme, you won't find better than Cheadle Hulme Dental and Cosmetics. Why not book an appointment by contacting us directly at 0161 486 0743? We look forward to welcoming you.
View our treatments