15 April 2015
Top 5 Reasons to Consider Invisalign for Teeth Straightening
Invisalign clear braces can be a great choice when you want to improve your smile. Invisalign can be used to correct many of the same problems as fixed metal braces, and there are plenty of benefits to choosing Invisalign rather than traditional braces. Here are some of the best reasons for getting your teeth straightened with Invisalign.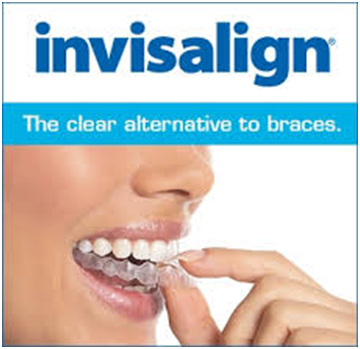 • 1.No One Will Know You Are Having Your Teeth Straightened
No one will be able to tell that you are wearing your Invisalign braces, so there is no need to feel self-conscious about having your teeth straightened, even as an adult. You will be able to look your best for important social occasions, feel confident when you smile for photos, and be sure that you are making the right professional impression at work.
• 2. Invisalign Won't Interfere With Your Lifestyle
When you are having your teeth straightened by Invisalign, there are no limitations on the kinds of foods that you can eat. Since you can remove your Invisalign clear aligner, you can enjoy crusty bread, crunchy nuts, and sticky toffees, all without having to worry about messing up or damaging your braces. You can also take out your Invisalign braces when you are exercising or playing sport, which will eliminate the risk of damaging your teeth or braces.
• 3. Invisalign Aligners Can Easily Be Removed for Cleaning
Invisalign aligners can simply be removed when you need to clean them and to brush and floss your teeth. This makes your life much easier and helps you to keep your teeth healthy. It can be very difficult to keep your teeth clean when you are wearing traditional braces, so many people experience problems such as plaque build-up and tooth discolouration while they are having their teeth straightened. Invisalign can straighten your teeth without interfering with cleaning, so it eliminates these problems.
• 4. Invisalign is Very Comfortable to Wear
Wearing your own custom-made aligners will be far more comfortable than living with traditional fixed braces. The wires and brackets of traditional braces can be uncomfortable, and can even produce sores and irritation if they rub against the inside of your mouth. Invisalign uses smooth, plastic aligners that won't cause these kinds of problems. You will get used to the feeling of wearing your aligners much quicker than if you had to adjust to conventional braces.
• 5. You Will Spend Less Time in the Dentist's Chair
When you are having your teeth straightened with Invisalign, there is no need to spend time having your braces adjusted, as you must do regularly with traditional metal braces. Instead, you will be given a series of custom-made aligners to wear as your teeth begin to move. Your dentist will even be able to give you several aligners at once so that you won't have to keep coming back every time you are ready for a new aligner. You are likely to have fewer, shorter visits to the dentist when you are having your teeth straightened with Invisalign rather than traditional braces.
Back to Blogs
Treatments
Taking your smile in a positive direction
When it comes to a friendly, caring, and professional dentist in Cheadle Hulme, you won't find better than Cheadle Hulme Dental and Cosmetics. Why not book an appointment by contacting us directly at 0161 486 0743? We look forward to welcoming you.
View our treatments