08 July 2015
Want a Hollywood Smile? Try Teeth Whitening
Want a Hollywood Smile? Try Teeth Whitening
Are you unhappy with the colour of your teeth? If so, you aren't alone. Nearly half of the population (48%) don't like the appearance of their teeth. When surveyed about the reason for this dissatisfaction, 64% said they didn't like the colour of their teeth.
The shade of your teeth doesn't merely affect you cosmetically. Your smile is one of the first things someone will notice when meeting you for the first time and if you smile then people are 80% more likely to talk to you so having a nice smile can be important for your social life, your career prospects and your confidence.
If you're looking for a partner, the health of your teeth could make the difference between a good date and a disastrous one. Personality is rated as the most important factor when choosing a date but coming in at a close second is the state of your teeth and your smile. While this may seem a little superficial, first impressions are everything.
This can present a problem for smokers since nicotine can permanently stain the teeth.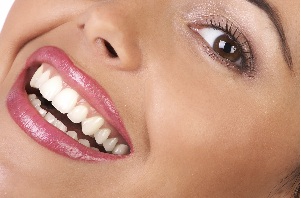 Fortunately, professional teeth whitening offers a solution to the problem and can give you the pearly whites you've always dreamed of.
Teeth whitening is a dental treatment to bleach your teeth so that they are many shades lighter than your current shade. You can do this at a single session at your dental office. The dentist can paint the bleach onto your teeth and then shine a laser onto them to activate the whitening. This is called laser whitening or power whitening.
Another option involves the dentist taking an impression of your mouth to make a custom-designed mouth guard so that you can apply the tooth whitening solution at home. Many people prefer the convenience of dentist applied whitening because it can be done in only an hour or less over their lunch break and the results are immediate, whereas DIY whitening will take several applications to achieve the same effect, although it is more expensive than using bleach and a mouth guard.
The advantages of having your teeth professionally whitened are:
A more attractive smile
Removal of unsightly stains
More self-confidence
Reduction of anxiety in social situations
The appearance of being more friendly to others
If you choose at-home bleaching with a dentist produced mouthguard, it is cheaper – the cost of teeth whitening is one of the more affordable cosmetic dentistry procedures
If you choose the dentist applied treatment, one visit is all that is needed to give you a dazzling smile
A whiter smile can make wrinkles less noticeable and leave you looking younger
Having dentist applied treatment is safer than buying teeth whitening products yourself. As bleach can cause irritation to your teeth and gums, a professional dentist can minimise this risk as he is trained to apply it and has the appropriate qualifications. Shop bought teeth whiteners may damage your oral health
Dental office tooth whitening should be painless
For a youthful and self-assured look, you could consider teeth whitening.
Back to Blogs
Treatments
Taking your smile in a positive direction
When it comes to a friendly, caring, and professional dentist in Cheadle Hulme, you won't find better than Cheadle Hulme Dental and Cosmetics. Why not book an appointment by contacting us directly at 0161 486 0743? We look forward to welcoming you.
View our treatments