15 April 2016
When Should You Call an Emergency Dentist Manchester
Most of us know what to do when we're confronted with a medical emergency, but the same mightn't be said for a dental emergency. Understanding when you should call an emergency dentist Manchester is key if you want to get the best form of treatment available.
Whether you attend a private dentist Manchester or an NHS dentist they will have a available on call during out of hours periods; but what actually constitutes the need for a dental emergency? Let's take a closer look.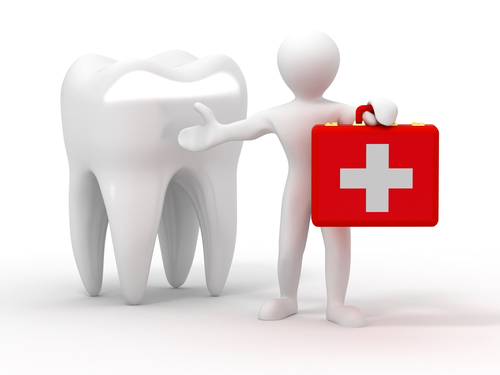 Missing teeth through head trauma
If you've suffered head trauma through an accident or injury and have suffered cracked, broken, or lost teeth in the process it's always best to go directly to your nearest accident and emergency department. This includes being involved in traffic accidents and sports injuries, falling off a bike, falling over, or being involved in a fight. You may have suffered concussion and/or need an urgent medical assessment to ensure that the trauma you received hasn't caused further damage. If you have no further issues, and once you've been given the all clear by medical staff, then contact your dentist right away.
Severe tooth pain
If you experience severe tooth pain caused by an obvious infection that can't be alleviated by over-the-counter painkillers then this should be classed as an emergency. Chances are that there are underlying problems which will need treatment. Any emergency dentist in Manchester will agree that a form of severe tooth pain such as this should constitute an out of hours emergency.
Severe dental bleeding
You should also consider contacting an emergency NHS or private dentist in Manchester if you experience severe dental bleeding after trauma, especially if the bleeding doesn't stop within a few minutes.
What about a tooth abscess?
A tooth abscess can be extremely painful but it doesn't generally occur overnight. In most cases this can be dealt with by making a within-hours appointment at the earliest opportunity That said, over a long weekend such as a Bank Holiday, or a festive holiday period it is possible that it can develop. In this case, if it's causing you severe pain and you have developed flu-like symptoms you should seek emergency dental help right away.
What about if you lose a filling or crown?
It's fair to say that losing a filling or crown isn't the type of issue that warrants a call to a Manchester emergency dentist at 2am. That said it should still be dealt with at the earliest opportunity, so make an appointment to see a dentist during working hours. Conversely if you've lost a crown on a tooth that hasn't had root canal treatment and the nerve is exposed, then this can be extremely painful. If this is the case, then you should contact the on-call dentist who should undertake a temporary repair until you can get it repaired properly by your own dentist.
So now you have a good idea of what constitutes a dental emergency. Let's take a quick look at what doesn't.
Toothache
You might be surprised to learn that if there is no obvious underlying issue such as infection or abscess, then toothache, no matter how severe, isn't classed as a dental emergency. Although you should make an appointment at the earliest possible opportunity.
Gum abscess
Again gum abscesses can feel relatively painful at the time but are usually less painful than a tooth abscess. Inevitably, most go down within a few days anyway. Again if you're concerned, it's best to talk to your ]during working hours who will advise you of what to do.
Broken dentures, braces, or lost veneers
Again these type of problems may seem like an emergency and indeed they can be problematic. However this type of issue rarely warrants an out-of-hours dental emergency, but should be dealt with at the earliest possible opportunity.
At Church Road Dental and Cosmetics we're a private dentist Manchester who have an on call, 7 days a week, 365 days a year. If you've experienced missing teeth through an accident or head trauma, developed severe tooth pain caused by an obvious infection, or are experiencing severe bleeding then contact our Manchester emergency dentist immediately.
For further details on what constitutes a dental emergency check out our website at  or  contact us directly on 01614 486 0743.
Back to Blogs
Treatments
Taking your smile in a positive direction
When it comes to a friendly, caring, and professional dentist in Cheadle Hulme, you won't find better than Cheadle Hulme Dental and Cosmetics. Why not book an appointment by contacting us directly at 0161 486 0743? We look forward to welcoming you.
View our treatments