03 June 2015
Why More People are Having Smile Makeovers
Why More People are Having Smile Makeovers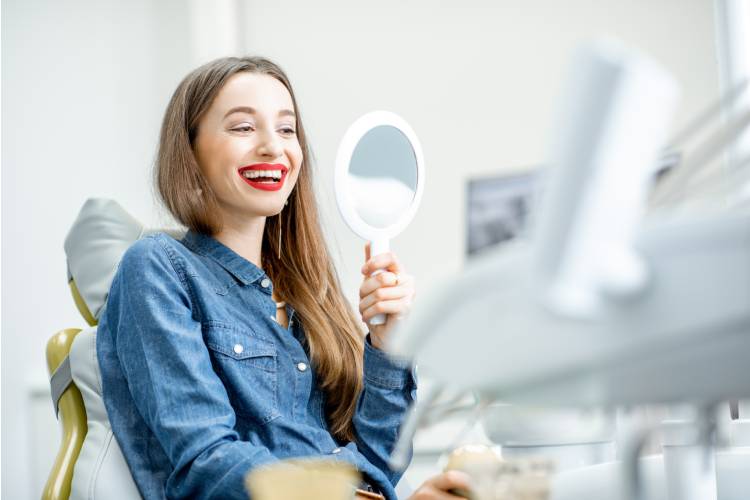 Do you ever look in the mirror and think you could benefit from a mouth makeover? The market for cosmetic dentistry and in particular, smile makeovers, has never been healthier. Cosmetic dentists have Hollywood and the media to thank for this because everyone has seen the dazzling pearly whites of famous actors and other celebrities. Magazines are awash with beautiful images of attractive people with stunning smiles so we can all see how we can look with the help of modern dentistry.
Visiting the dentist is no longer a painful experience to be feared as you sit in a waiting room that smells of antiseptic, reading old newspapers before you are called to the dentist's chair.
Increasingly, today's cosmetic dental surgeries are like spas or beauty salons with tasteful décor, TV sets on the ceiling for the nervous client, needle-free anaesthetic injections and highly advanced techniques that give amazing results with minimal discomfort.
Some of the cosmetic treatments that are available are:
Laser Teeth Whitening
The natural effect of the aging process, smoking, diet and medications can all have an impact on the colour of your teeth. Yellowing teeth can add years onto your age so if you want to look younger in only an hour, you could have laser teeth whitening. This is a simple in-office procedure that could be done during your lunch break so you don't even need to take the time from work. The cosmetic dentist will paint your teeth with a special bleach and then activate it with the use of a laser. The results are fast acting which is why many people prefer it to the traditional mouth guard and at home bleaching.
Veneers and Crowns
Veneers are a thin layer of tooth-coloured material, made of either porcelain or composite. They can be directly placed on teeth that are chipped, discoloured or misaligned, or where the enamel is worn, to improve your smile's appearance
Crowns may be a suitable option for repairing broken, decayed or root-treated teeth, and can improve tooth strength and appearance. Shaped like a natural tooth, the crown can be made of porcelain, gold or a combination, depending on personal choice and its location.
then used to create the perfect veneers or crowns for you.
Composite Bonding
Composite bonded is a new painless alternative to veneers. If you'd rather not have large areas of tooth removed to achieve your new smile, composite bonding can be used to repair chipped or discoloured teeth.
The application of tooth coloured resin can fill fractures in the teeth, alter the shape of your teeth to make them more attractive or lighten their shade if they are stained. The application is quick and can often be done without any tooth removal at all.
Gum Contouring
Sometimes, self-consciousness about your smile isn't due to problems with your teeth. It could be due to your gums. An uneven gum line can cause a 'gummy' smile. Gum contouring uses laser technology to shape the gum tissue so that it looks more attractive and trim away any excess gum so that it looks in proportion with your teeth. The laser will automatically re-seal the wounds so that you don't have much bleeding or pain. This new technique has only minimal discomfort for stunning results.
Back to Blogs
Treatments
Taking your smile in a positive direction
When it comes to a friendly, caring, and professional dentist in Cheadle Hulme, you won't find better than Cheadle Hulme Dental and Cosmetics. Why not book an appointment by contacting us directly at 0161 486 0743? We look forward to welcoming you.
View our treatments