06 February 2011
Why whiten your teeth?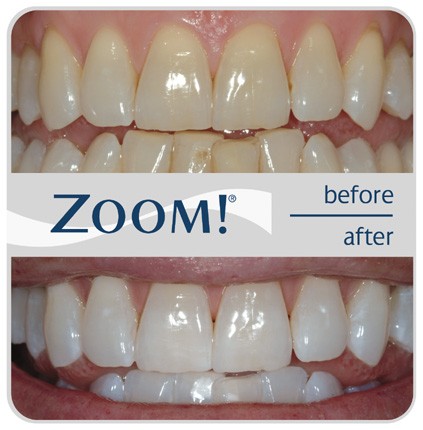 Teeth whitening is a reversible and completely safe way to freshen your smile. This non-invasive treatment can make you look younger and make you feel better! Throughout your lifetime your teeth darken as the years pass by. This is internal discolouration of the teeth and no matter how much you clean your teeth, this darkening cannot be reversed. Regular cleaning visits with us will enable us to remove any external staining on your teeth such as tartar, coffee staining and red wine which can accumulate on the external surface.
The main reason that we find people are bleaching their teeth is to feel better about themselves and improve their self confidence. This can be particularly important if you may be looking for a new job or looking for a new life partner. If something makes you look good it also makes you feel good and when doing this procedure, as part of our aftercare, we speak to patients to see if they are still happy with the results 6 months later. We recently spoke to a patient from Manchester who told us that since having the zoom whitening done before the start of his new job, he now has more self-esteem when speaking to his colleagues who are younger than him. It is proven that people who feel good about themselves are going to be much more likely to do better when it comes to the ways of the world.
Below are several reasons to have a free consultation in our Cheadle Practice to talk about tooth whitening:
In a world where we are always trying to look younger and regain our youthful looks teeth whitening is an extremely cost-effective and simple method to achieve this when compared to smile makeovers using veneers.
Great to do before big occasions such as weddings or graduations to treasure with those all important photographs
To make a positive first impression with people that you may meet
To help to reverse the signs of ageing caused by the discolouration of teeth
At Church Road Dental and Cosmetics in Cheadle, Stockport we have a selection of whitening methods. The include night whitening using trays, Zoom 1 hour power whitening, Zoom combined whitening and Enlighten deep bleaching.
No matter how discoloured your teeth are we will be able to help you to achieve the perfect smile whether it be a Holywood smile or just simply going a few shades lighter to give you a natural looking white smile.
Simply call us on 0161-486-0743 or send an email and we can discuss with you how we can help you to change you life.
Check out the video below to see how we changed the life of Miss Elicia Davies who is the current Miss Manchester
Back to Blogs
Treatments
Taking your smile in a positive direction
When it comes to a friendly, caring, and professional dentist in Cheadle Hulme, you won't find better than Cheadle Hulme Dental and Cosmetics. Why not book an appointment by contacting us directly at 0161 486 0743? We look forward to welcoming you.
View our treatments