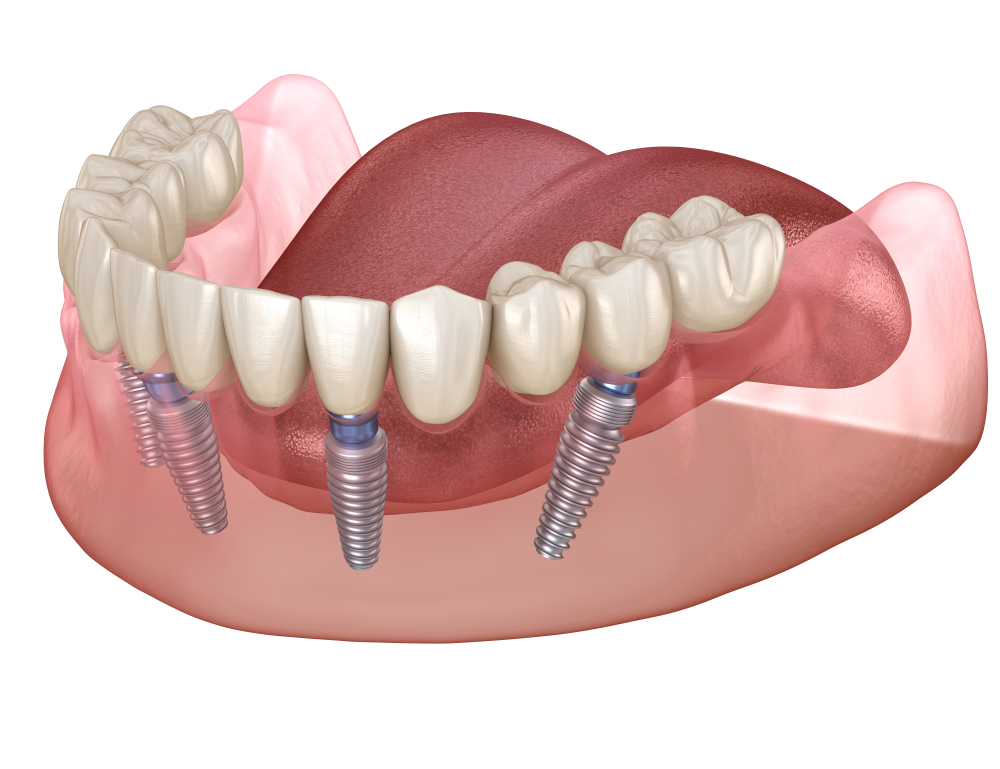 If you are considering all-on-4 dental implants in Manchester, or are simply curious to know what they are, who they are suited to and how you can benefit from them, then sit back and relax while we talk about the how's and why's.
Given that conventional dental implants have been in use since 1965, it may come as a surprise to learn that all-on-4 dental implants didn't really exist until 1998 when the concept was invented by Nobel Biocare. Nowadays, however, some 2 decades on, ask any private dentist in Manchester and they will tell you that implant-based restorations using the all-on-4 method are incredibly popular.
So what exactly are All-on-4 implants?
As the name suggests they provide a way for edentulous patients (those missing entire arches of teeth) to undergo a complete smile transformation using just 4 dental implants – So an entire set of restorations can be supported by just 4 dental implants.
This is a massive deal for patients missing complete arches of teeth because previous to this if a patient needed entire rows of teeth, their only real option was to be fitted with a conventional denture or have individual dental implants – usually 8-10 or more. Unfortunately, the first option is far from ideal for numerous reasons which we will get to in a second – and the second option is just way too expensive to contemplate. So in reality, for the patient needing a better solution, neither option was/is practical.
All-On-4 dental implants vs dentures
While conventional dentures offer a clear choice in terms of initial cost, that really is where the advantages stop. Despite the fact that modern dentures are more lifelike, more hardwearing and more comfortable to wear, they are still tainted with the same problems that have been bugging denture wearers for hundreds of years – They become loose!
Because dentures are designed to fit over the gum, they can't halt the bone loss process that occurs when teeth are missing. This means that once snug-fitting dentures will become loose over time. When they do, they need replacing – usually after 5-7 years. In the meantime, they can cause embarrassing moments when speaking, eating or taking exercise.
On the contrary, dental implants are designed to be anchored directly into the jawbone and when fused with any remaining bone will not only form a super-strong structure but also stop bone resorption once and for all.
So when all-on-4 dental implants in Manchester combine to support a full arch of fixed teeth. It's a win/win situation for the patient. Here's why…
Firstly it's a cost-effective way of having a full arch replacement
Secondly, once in position, they're hassle-free – No more denture-soaking and embarrassing denture slippage and,
Thirdly, chances are they will cost you even less in the long term.
So who are all-on-4 dental implants in Manchester suited to? Our Hale dentist explains…     
All on 4 implants can actually suit a wide variety of patients. Those patients who have lost all or most of their teeth, for example, are prime candidates, or even, long-term denture wearers who fancy a permanent hassle-free replacement. Or, those who have extreme tooth decay and are faced with multiple extractions.
Finally, patients who have experienced high levels of bone loss may also be great candidates because all-on-4 implants are designed to be tilted and therefore no longer require as much bone mass as conventional implants which are inserted vertically. This means that patients with minimal bone won't need to undergo costly bone grafting.
The all-on-4 dental implants procedure – What does it involve?
Whether you visit a Hale dentist or a private dentist in Manchester, Just like all dental procedures, the all-on-4 process starts with a consultation.
The dentist will look at your personal situation and decide whether you're a good candidate. They are likely to ask you questions about your current health and whether you are currently taking medications. If it's decided that all is okay and you would like to go ahead, then your dentist will take a scan. From here they will see the extent of your bone depth and can utilise a mock-up to take an impression.
All-on-4 dental implants in Manchester – The Surgery
The next step is the part that everyone is anxious about – the surgical procedure.
In truth, it really is nothing to worry about. As our dentist will ensure that you remain relaxed and calm and understand what is about to happen. Once we're good to go, the next task is to prepare the mouth for any implants. This may mean extracting any teeth or removing any decaying or diseased tissue.
Next, using precision-guided tooling, your implants are carefully placed into position – usually 2 at the front and 2 at the back. This is so that when any biting force is applied, any bite pressure will be evenly distributed.
Completing your smile
On the same day, the dental team will attach a temporary overdenture to your teeth to give you a great-looking smile. Then after several months – and after the stability of your implants have been checked – you'll head back to the clinic to receive your permanent and final teeth. Once you've been tested for comfort and fit, you're good to go.
What about post-op recovery?
So you've done the hard part, now what can you expect?
For the first 24 hours at least, patients should expect a little tenderness coming from the implant area. It's important however not to disturb the site and any pain felt can usually be brought under control with over-the-counter painkillers.
You shouldn't be brushing, but there will be a need to keep the area bacteria-free. Therefore your dentist may prescribe salt rinses. Remember not to spit! Finally, movement should be limited, so no sudden bending, stooping or getting up quickly.
When it comes to foods, liquids are best for the first 24 hours at least, but remember to avoid extremes of hot or cold.
In the days that follow, Manchester patients may see some swelling appear. This is natural and can usually be brought under control using cold and hot compresses. Use ice to bring out any swelling and around the third-day patients can switch to heated pads.
You can start to increase your food intake as you see fit starting with soft foods such as scrambled egg, soup or yoghurt and moving onto fish, soft fruit and pasta. You may also feel a little more mobile, so gentle walking is good.
The most important thing to remember during these first few days is rehydration, rest and maintaining oral health.
So there you have it…everything you need to know about All-on-4 dental implants in Manchester.
If you feel that you are a good candidate and want to investigate this option further, then don't hesitate to contact the team at Church Road Dental and Cosmetics. We have a highly skilled team who regularly undertake procedures like all-on-4 dental implants in Manchester for patients who are orally handicapped.
Why not book a consultation with Dr. Shi Karim and the team today on 0161 486 0743 and take the first steps towards receiving your perfect smile.