Our awarding-winning Cheadle dental practice offers a range of cosmetic procedures. Whether you're looking for botox in Manchester or for the latest in fast orthodontic treatments, we can help.
Increasingly, we see patients that want to improve their appearance by restoring their smile back to how it used to be before they lost one or more teeth. By having dental implants, Manchester residents can not only experience improved confidence in their aesthetics but also restored function.
Many patients are unaware that the shape of our face is somewhat determined by our teeth. This is particularly the case with our cheeks, because our muscles are supportive by our teeth at the sides. This can sometimes mean that if you'vre got one or more missing teeth, the cheeks can begin to cave inward, which creates an older and more sunken appearance of the face. Aside from effecting our face shape, missing teeth can cause a lack of self-cofidence. This is particularly the caae if the gap is visible when you smile. The ideal solution? Dental implants. Manchester residents can restore a youthful look to both their face and smile with this gold standard treatment at our Cheadle dental practice.
What exactly is a dental implant?
A dental implant is a titanium post that acts as a prosthetic root. It's surgically placed into the jawbone during a 1 hour long procedure. After the bone has fused around the implant (approximately 12-16 weeks) it can then be used to attach a prosthesis to it, such as a crown, bridge or denture. With dental implants, Manchester patients can replace either single teeth or a full set. They not only restore the smile but also function by helping to improve eating and speaking ability. The procedure is always performed under a local anaesthetic so you won't feel any pain during treatment. What's more, at our Cheadle dental practice, we only use the latest techniques, and this coupled with our experienced team means that you're in safe and secure hands.
How can dental implants improve my appearance?
We all want to look our very best and some go to great lengths in order to keep looking youthful, which is why treatments like Botox in Manchester are popular. That being said, restoring missing teeth can have a dramatic effect on the appearance of both our face and smile. How? Our gums and teeth provide natural support for the structure of our faces. Without teeth, our face can sag, appear sunken and aged. Also, when we lose a tooth, the surrounding bone begins to resorb (or shrink away) which leads to deterioration of the bone.
Other options to replace missing teeth such as dentures or bridges can actually accelerate this process instead of preventing it. This is not the case with dental implants. Manchester patients can actually help prevent or slow down bone re-absorption and help to preserve your facial contours.
Lastly, losing teeth can have a negative effect on a person's self-esteem, especially if the gaps are visible when smiling. Having an attractive smile is an important feature to many nowadays. Patients with missing teeth often find it embarrassing and it can cause them to cover their mouths when talking, laughing or having their photo taken. Having dental implants will restore gaps left from missing teeth, while looking extremely natural and realistic.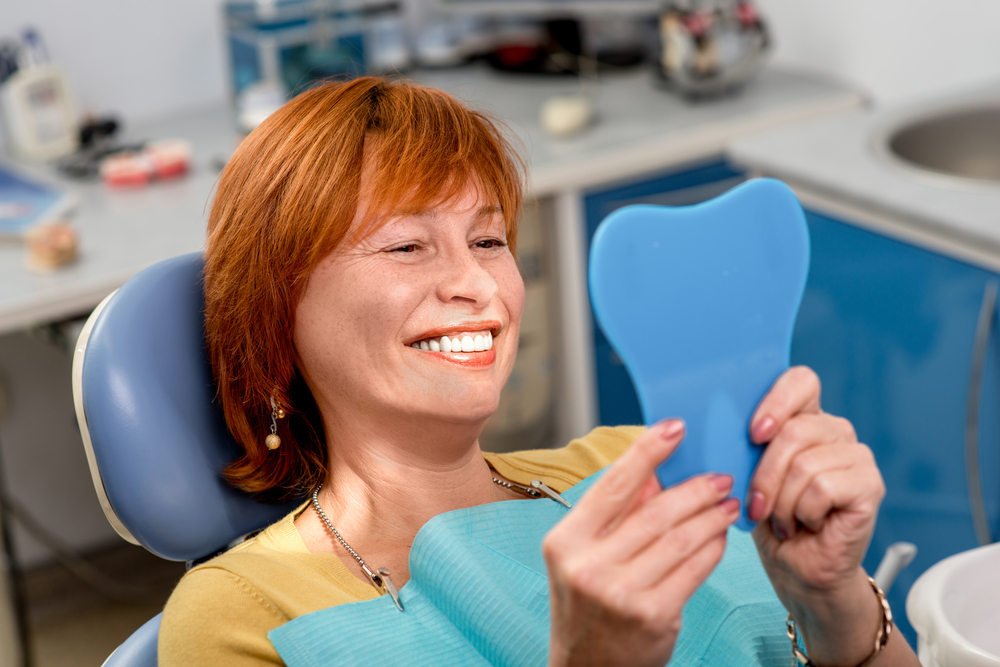 Some other benefits of dental implants include:
They're firmly secured into place just the same as your natural teeth are, meaning they won't slip, slide or shift about in your mouth.
Implants don't need to use the neighbouring teeth for support, which means no other teeth are damaged.
They're cleaned just the same way as natural teeth are and there's no need to ever remove them at night to clean or soak them.
Implants will allow you to eat easier and speak clearer in comparison to wearing full dentures.
Implants are also considered longer lasting and much more predictable than other options such as bridge work or root canal treatments.
They stop the teeth from shifting into the empty spaces left by missing teeth
Many implant patients agree that dental implants are definitely worth the investment. When properly cared for, they're a long-lasting and natural looking solution for people with missing teeth. Dental implants are also suitable for the vast majority of people and we ensure that treatment at our Cheadle dental practice is always tailored to each individual patient.
If you're missing one or more teeth and are looking for a more youthful appearance, then instead of treaments such as Botox in Manchester, it might be time to restore your smile with dental implants at our Cheadle dental practice instead. If you're interested un having dental implants in Manchester, book in for a consultation with us to find out more. Call us today 0161 486 0743 or visit our website www.cheadlehulmedental.com.
Save