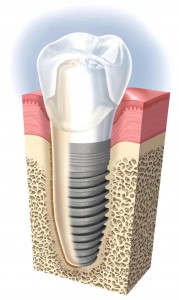 Dental implants are becoming one of the most popular solutions to missing teeth and gaps in Wilmslow .  At Church Road Dental and Cosmetic in Cheshire we offer the solution to your smile woes!
Dental Implants are made of a titanium which is readily accepted by the body and once placed can become one of the strongest teeth in your mouth. They are perfect for replacing Dentures/missing or moved teeth/ teeth that have never erupted.
The procedure is carried out at our state of the art dental surgery in the Cheadle Hulme close to the Wilmslow Bramhall Cheshire area. Firstly we would arrange a consultation appointment for you where any questions or concerns you may have can be answered over a coffee.  We would then arrange the further appointments needed for treatment if you decided to go ahead with your implant. These include a full mouth assessment with our leading implant dentist; An appointment for the treatment, where our leading implant dentist will place the implant for you; An appointment for impressions to be carried out for the crown or bridge to go on to the implant(s). This will then be followed by an appointment to have the bridge or crown fitted on once it has been made by our specialist laboratory.
If you have decided you want an implant we would advise you to come in for a free consultation here at Church Road Dental and Cosmetic near Bramhall where we could assess your needs and talk over any queries or concerns you may have over a coffee in our private consultation lounge.
FAQs
Is it expensive?
The cost of dental implants can vary depending on the complexity of the implant procedure and whether more complicated procedures are also required such as bone grafting or sinus grafting. We would assess your case and give you a full costing of what you would need for your individual treatment plan.
Does it hurt?
The procedure is carried out under local anesthetic and most people report that it is no different to having a filling done. If however if you feel you would prefer to be made a little more comfortable throughout the procedure, we do offer sedation treatment to relax and reassure you.
How long do they last?
As with anything in the body, if you look after your implant in the correct manner they can last you your lifetime. You will be given lots of help and support on caring for you new implants at every step of your treatment.