If you've recently lost one or more teeth, you're likely looking for answers on how best to restore your smile. The burning question for many in this situation is: should I get dental implants Manchester or dental bridges? Manchester patients looking for a fixed, permanent solution to restore their missing teeth often get confused over the differences between these two treatments.
So let's dive in and take a closer look at what you need to know about these two restorations before your next visit to your Manchester crown clinic.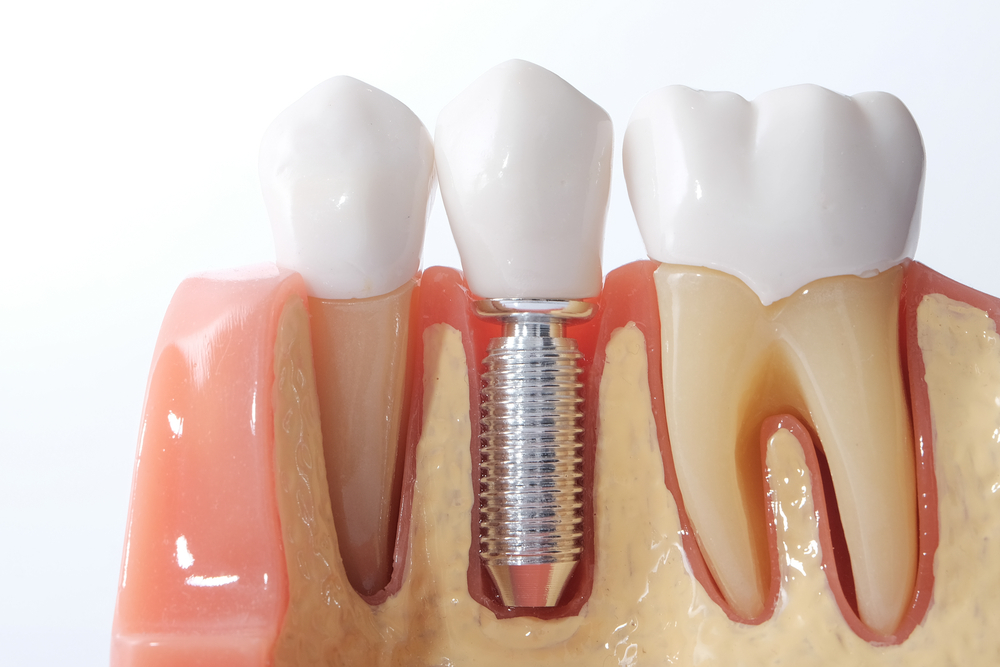 First of all, what's a dental bridge?
A bridge is a commonly used dental restoration used to replace missing teeth by bridging the gap. It's permanently cemented into place and can only be removed or replaced by your cosmetic dentist. With a dental bridge, a pair of crowns will be made at our Manchester crown clinic and placed onto the existing teeth either side. This holds your false tooth in the middle acting as a bridge, although the artificial tooth isn't actually fixed to your jaw.
What's a dental implant?
A dental implant is a titanium post fixed into the jaw in order to replace the whole missing tooth, including the root. Once the implant is inserted, new bone will begin to grow around it, fusing to it and strongly anchoring the implant in place. This process generally takes between 3-6 months. After this time, we'll carefully create your new crown that will be attached to the implant in order to complete your smile restoration.
Okay, so should I choose dental implants or dental bridges in Manchester?

We know that deciding how best to replace your missing tooth can be very confusing. To help, we've put together a list of commonly asked questions along with a few factors that you might want to bear in mind when it comes to making your decision.
It's worth considering the following questions:
Which treatment will last longer?

Implants are the best long-term solution. Although you might need to replace the implant crown every 15 years – due to unavoidable wear and tear – the titanium implant itself should last forever. On the contrary, bridges typically last an average of 5-7 years, although they can last much longer with good oral care and maintenance.
Which treatment will be better for my oral health?
When it comes to conventional dental bridges, Manchester patients may be surprised to learn that during preparation for a dental bridge, the natural teeth either side of the gap must be reshaped or shaved down. This is because your natural teeth need to support the framework for the new teeth to sit perfectly. In other words, quite a lot of damage is done to the healthy neighbouring teeth in this treatment process. This can weaken them and leave them vulnerable to decay.
Clearly damaging or weakening perfectly healthy teeth goes against any dental philosophy of preserving teeth where possible. For this reason, modern dental preference is to fit implant-retained dental bridges where possible. The reasoning behind this is simple: dental bridges which are supported by dental implants do not rely on the support or reshaping of other natural teeth. Instead, a single implant inserted into the first gap is sufficient to support a further false tooth which spans the second gap.
As a result, choosing dental implants in Manchester or an implant retained dental bridge is a better long-term solution because no teeth are damaged. What's more, implants are the only restoration that actually works to preserve and stimulate bone growth, preventing any further bone loss.
Which treatment is better for oral hygiene?
It's likely that you'll find dental implants easier to care for. You don't really need to buy any special products to help keep them clean – just simply care for them as you would your natural teeth by brushing and flossing well. With a dental bridge, Manchester patients may find it's a little trickier.
As the false tooth is closely attached to the neighbouring teeth, you can't clean and floss as you would normally. Instead, you'll need to use a special kind of floss – called super floss – to clean underneath the bridge, so that you keep the area free from plaque and leftover food particles.
Which treatment has better insurance coverage?

In general, most insurance plans will cover dental bridges in Manchester so you can likely claim back quite a large percentage of the cost. On the other hand, not many insurance providers are willing to cover dental implants. But, you might still be able to claim for the cost of the crown that sits on top of the implant.
Which option will look more natural?
Thanks to modern dental materials, nearly all restorations now look extremely natural. There is one point to bear in mind though. With dental bridges, over time, gum tissue and bone are lost and gaps can form underneath the false tooth. For this reason, a dental implant is likely to look better in the long-run because it will be fitted directly into your gum and preserves the level of bone – just the same as your natural teeth do.
Which treatment will take longer?
Dental implants! The whole process can take a number of visits within a 3-6 month period. The exact time depends on a number of factors such as how many implants you have fitted and the condition of your jaw bone so it's best to check with your cosmetic dentist. That being the case, dental bridges are a much quicker option and can be completed in as little as 3-4 weeks.
Hopefully, we've answered a few questions and helped you understand each the differences between dental implants Manchester and dental bridges in Manchester more clearly. You can only make an informed decision if you have all the facts, so consult your Manchester crown clinic first because they're in the best place to advise you on the most suitable solution in your particular individual case.
Whatever treatment option you choose, Church Road Dental & Cosmetic are here to help. With our top quality patient care and state-of-the-art equipment, you can rest assured that you'll be in safe hands. Call us to book your free no-obligation consultation today on 0161 486 0743.